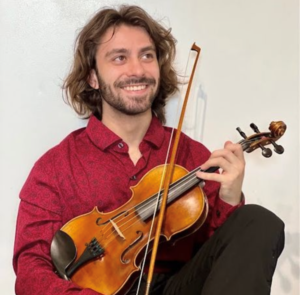 Zachary Bergeman has been a student of Ms. Laura's for 17 years and he has 8 years of teaching experience.  Zachary taught alongside Laura as a student teacher with Lighthouse Suzuki Strings during Group Classes, Orchestra and Summer Camp for 4 years.  Now a College Graduate with a Bachelor's Degree in Music Education from University of Central Florida, Zachary teaches his own private violin and piano students with the Oviedo School of Music.  In the Fall he will move to Tampa and pursue a Masters Degree in Violin Performance at The University of South Florida.  He teaches with "Online Violin Lessons" during Ms. Laura's summer break and sporadically throughout the year and he will be an instructor for "Online Summer Camps". Zachary is a Registered Suzuki Violin Teacher and a Member of the American String Teacher's Association.  He enjoys teaching and performing a variety of musical styles including classical, fiddle, pop and movie theme music.  Zachary specializes in Beginning Piano Lessons and Music Theory.  The month of July would be a perfect time for string students to pursue those areas of music study.  Contact Ms. Laura to schedule Lessons with Zachary.   Or Email Mr. Zachary: zacharyviolin01@gmail.com
BIO
Zachary Bergeman is a Florida born and raised musician whose primary focus has been the violin since the age of six. Bergeman is currently a violin student at the University of Central Florida in pursuit of a Bachelor's degree in Music Education. Bergeman began studying the violin at school when he was 6 years old and since then he has known that he could never have a career in anything but music. After he changed schools, Bergeman asked his parents to enroll him in private lessons at the Jupiter Academy of Music in Jupiter, FL. This is where he took lessons for 11 years with Ms. Laura Mozena, only leaving to pursue his dream of becoming a music teacher. 
During middle school, Bergeman was in the Pre-teacher Education Academy. This is where he discovered his second passion of teaching. He realized that he could have both of his most prominent passions together, music and teaching. In this academy he learned how to teach short lessons, care for infants and toddlers, and was CPR certified.
Zachary Bergeman attended public school in a county where orchestras were not prevalent in the average music building. However, that did not stop Bergeman from performing wonderful music with his young musician friends. In 6th grade, Bergeman joined as a percussionist in the Independence Middle School Concert Band. In 8th grade he achieved the title of percussion captain in the band leadership team. In high school, while continuing his studies at the Jupiter Academy of Music, Bergeman participated in marching band, concert band, and jazz band. In 10th grade Bergeman secured the position of percussion captain in the high school leadership team. He played the quintuplets in the marching band, various percussion instruments in the concert band, and he played an interesting role of a bass guitar on an electric keyboard for the jazz band.
Throughout high school, Bergeman was enrolled in the Early Childhood Teacher Education Academy at William T. Dwyer Highschool. In this academy, Bergeman created and learned how to teach lesson plans, communicate with students, teachers, and parents, and was CPR certified again in his senior year. To complete this academy, Bergeman was required to pass all three Florida Department of Child and Families exams which covered topics such as health safety and nutrition, behavioral observation, child abuse and neglect, child growth and development, preschool appropriate practice, rules and regulations, and understanding developmentally appropriate practice. Upon passing these exams and completing over 480 hours of volunteering with young children in classrooms around Palm Beach County, Bergeman earned his Early Childhood Professional Certificate.
During his senior year, Bergeman was nominated to represent William T. Dwyer Highschool as the nominee for instrumental performance in the annual Palm Beach Pathfinders scholarship competition. Bergeman was also nominated and awarded with the Palm Beach Career and Technical Education Student of the Year award.
At the University of Central Florida, he has studied privately with Dr. Ross Winter and has worked with fellow colleagues in Dr. Winter's studio. Bergeman has performed at various venues with the UCF Symphony Orchestra and the UCF Chamber Orchestra under the direction of Dr. Chung Park. Bergeman is a collegiate member of the American String Teacher Association and attends both the state and national conferences. Bergeman enjoys teaching and performing a variety of musical styles on the violin including classical, fiddle, and movie theme music. Zachary loves teaching and being able to share his passion for music with everyone he comes across!