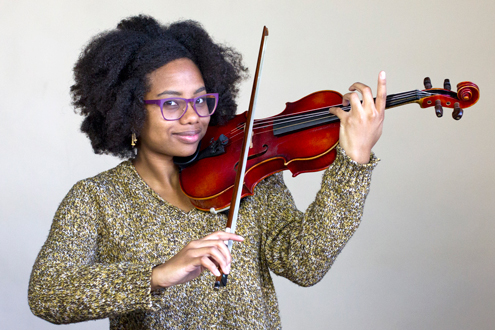 UMSL student Octavia Sydnor performed Nov. 9 with the Metropolitan Orchestra of Saint Louis. (Photo by August Jennewein)
Student violinist inspired performing with Metropolitan Orchestra of Saint Louis
The invitation came via an email from her University of Missouri–St. Louis violin instructor Julia Sakharova. Would she be interested in playing with the Metropolitan Orchestra of Saint Louis? Always hungry for opportunity and a new experience, Octavia Sydnor, a junior music major with an emphasis in violin performance at UMSL, jumped at the chance.
At the beginning of November she shared the stage with the Metropolitan Orchestra of Saint Louis for a concert held at Maplewood Richmond Heights High School.
"It was an eye-opening experience. It forced me to pay more attention," Sydnor said of her shared performance with the professional musicians.
The Metropolitan Orchestra of Saint Louis is composed of working professional musicians, amateur performers, music teachers and student musicians, who are seeking a venue to perform standard symphonic repertoire at a high level. Sydnor will play two additional shows with the orchestra, one in mid-March and the other at the end of April. Several other string players from UMSL also perform with the Metropolitan Orchestra of Saint Louis.
Sydnor performs with the UMSL orchestra and immediately picked up on differences performing with the Metropolitan Orchestra
"It was really fast-paced," she said. "And of course it made me a better player."
She's grateful to Sakharova, an assistant professor of music and the second violinist of the Arianna String Quartet, the ensemble in residence at UMSL, for making her aware of the opportunity.
"It was a nice opportunity, and I got paid for it," she added with a chuckle.
Sydnor has been studying with Sakharova since she transferred to UMSL from another university in 2012, a move Sydnor called "a really good decision."
Sakharova has nothing but praise for her pupil who she described as bright, serious and dedicated.
"What I like the best about Octavia is her constant drive, her willingness to try new things, to practice hard and to achieve her goals. We need more students like her who are fully committed to their instrument and to the idea of bringing people together through music. She is a great asset to our string program at the university and the music community in the city."
Sydnor began playing the violin when she was 8 years old through a program at her elementary school.
"I just knew I wanted to play it, and I got into it and stuck with it past kids saying 'It's not cool anymore,'" she said adding "playing the violin just makes sense to me. It feels natural."
Never having received private violin lessons growing up and not thinking she was as technically good as other students, Sydnor felt discouraged from pursuing music in college. But that all changed when a judge at a high school music festival gave her the confidence she was lacking.
"The judge praised me," she said. "He thought I was really great and talented, and I thought to myself 'I think I have something here.'"
During her time at UMSL she certainly has been busy taking part in numerous local and national festivals and workshops. Most recently she was chosen to participate at the Green Mountain Chamber Music Festival in Burlington, Vt., as well as the Marrowstone Music Festival in Seattle, among others. In January she was principal second violin at the collegiate division orchestra of the Missouri Music Educators Association. She's also a past recipient of an IN UNISON scholarship, which is administered through the St. Louis Symphony. In addition to providing music-related resources to predominantly African American churches the IN UNISON program also funds music scholarships for minority students pursuing bachelor's degrees in music or music education.
Even in her downtime, her extracurricular activities revolve around music and sharing her passion for it. She volunteers with an organization called Orchestrating Diversity, which is affiliated with El Sistema-USA. Sydnor provides free violin lessons to students of St. Louis Public Schools.
"It's really cool. I like being able to work with kids, and I still feel like a kid so it's nice to keep that mindset and relate with them," she said.
Looking to the future, Sydnor wants to play in a pit orchestra for musicals, operas and ballets.