Philanthropic group, D.K. Kim Foundation, will fund the endowment to award one to four scholarships that will be given annually, in amounts of $10,000.00 each to two scholarship recipients and $1,000.00 each to two runners-up, on a one-time basis.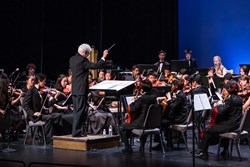 Asia America Youth Symphony
Rolling Hills Estates, CA (PRWEB) November 19, 2013
The Asia America Symphony Association is pleased to announce that it will award annual music scholarships that will assist worthy recipients to pursue an education in music at the university level. The D.K. Kim Foundation, Inc. (DKKF), a philanthropic group dedicated to promoting education as the path to success and to a better world by supporting institutions of higher learning and its students, will fund the endowment. This Foundation is not new in helping students in need further their higher education. The D.K. Kim Foundation, Inc. was established in 2003 by Dong Koo Kim, a successful business entrepreneur residing in Southern California. Motivated by the missionaries who helped create opportunities for him during his childhood in a Korea divided by war, he realized that education as the unparalleled endeavor and investment for society, thus, the Foundation was created.
As a 501(c)(3) not-for-profit foundation, the DKKF has provided many generous contributions to the Haas School of Business at the University of California at Berkeley and high school students through the Palos Verdes Peninsula Rotary Club, thus affecting the lives of hundreds of students worldwide. AASA Board members, Robert Pacifici and Craig Sunada, current president Randall Tamura, as well as past AASA President Ted Tokio Tanaka were instrumental in facilitating the union of the two organizations that communicate this same vision throughout the community.
The D. K. Kim Music Scholarship is a scholarship program administered by the Asia America Symphony Association (AASA), a 501(c)(3) public benefit corporation originally formed in 1961 as a community ensemble of union and non-union musicians. Since those beginnings over fifty years ago, the association's mission has expanded and now includes the Asia America Youth Symphony (AAYS), founded by Musical Director and Conductor, David Benoit, who is also dedicated in providing young musicians with an innovative training program to develop their talents and prepare them for multi-faceted careers as up and coming musicians.
The AAYS provides approximately 70 junior high and high school students with an opportunity to perform a wide array of musical repertoire, challenging them to master diverse musical styles ranging from classical to jazz and film scores. In addition, students are encouraged to compose their own original composition for the orchestra. Eligibility extends to music students age 18 and under who play any orchestral instrument with reasonable proficiency and who are interested in classical and jazz music. AASA anticipates that one to four scholarships will be given annually, in amounts of $10,000.00 each to two scholarship recipients and $1,000.00 each to two runners-up, on a one-time basis.
The purpose of the scholarship is to further AASA's mission in promoting the development of young musicians by helping to enable their attendance in university music programs. The D.K. Kim Music Scholarship will recognize outstanding AAYS musicians and assist them in their musical aspirations.
Applications are welcome from all members of AAYS who are seniors in high school and who have been accepted to a music program at the university level. Applications for consideration for the 2014 scholarship must be submitted to the Selection Committee c/o AASA's offices by May 1, 2014
Auditions for the AAYS for the 2013-14 year are still open. See the AASA website for more details on auditioning and scholarship opportunities.
About D. K. Kim Foundation, Inc.
The mission of the D.K. Kim Foundation is to construct a global community that fights poverty and promotes innovation through entrepreneurship, scholarship and service. Their vision and mantra starts with the next generation as the future leaders of our society. They believe in creating a learning environment where the next generation is taught valuable skills and Christian values, and to give tools to those in need to become financially self-sufficient and self-reliant.
About AASA
The Asia America Symphony Association is dedicated to developing and mentoring young musicians by providing educational and performing opportunities in a professional environment featuring classical and jazz concerts and integrating Eastern and Western influences. AASA provides mentoring to the youth by exposing them to professional musicians and allowing them to perform in major venues and with well-known professional artists.
About David Benoit
David Benoit's career spans over three decades as a contemporary jazz pianist and composer, including 32 solo albums that have garnered him five Grammy nominations. Benoit's talents expand into symphonic orchestral music endeavors that include his ongoing role as Music Director & Conductor of the Asia America Youth Symphony along as the on-air radio host weekday mornings on KKJZ 88.1 FM.
Press Inquiries: Alison Jamele – Email: nosijam(at)aol(dot)com / Phone: 310.527.1198 (cell)